I am very grateful for the overwhelming support I have received from each and every one of you.
It has been an honor and a privilege to work on your behalf over the years.
As a nation, we continue to face serious challenges, but if you all will continue to work together North Carolina can move forward and change will eventually happen.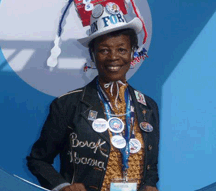 Continue to move North Carolina forward!
North Carolina is a great State, but we continue to face very serious challenges that need resolution. In order for us to pass on a better, brighter and stronger nation to our children and grandchildren, it is critical that we get the economy moving again. Our national unemployment rate is still unacceptably high and the unemployment rate in North Carolina remains high. Middle-class families struggle to make ends meet and most cannot afford health insurance. Issues like health care, education, jobs and women's rights go hand in hand with developing a sustainable economy; not only for North Carolina but for communities throughout this nation.
Margaret Johnson of WXII News 12 on the loss of Earline Parmon
The NC Legislative Black Caucus and The Ministerial Alliance kick-off of the educational tour in honor of Former SenatorEarline Parmon. This press conference was held at Emmanuel Baptist Church on Tuesday April 5, 2016. Read more